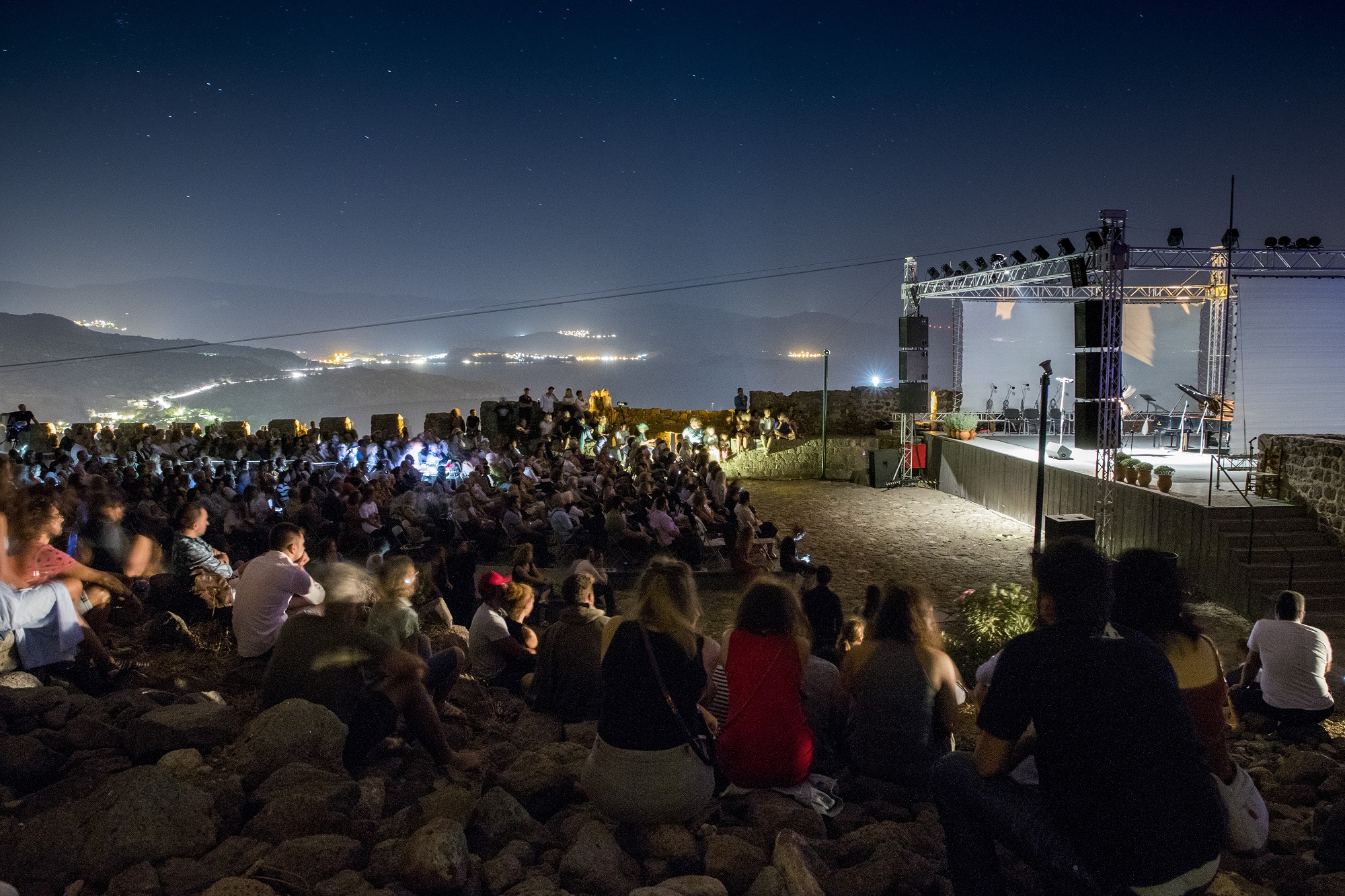 July 24, 2020
"Synchronicity" – Molyvos International Music Festival 2020 takes place as a binational event
The Molyvos International Music Festival will take place again in 2020 – with a new motto and under different conditions, but with the same old passion and enthusiasm on the part of the festival founders, Danae and Kiveli Dörken, and their well-known fellow musicians. The three concerts in Stuttgart and on the island of Lesbos can be attended live by everyone free of charge thanks to live streams on established social media platforms. And the programme promises to feature many exceptional moments – including the first performance of the commissioned work "Moments" by Nickos Harizanos.
At the moment, many young artists are displaying a very special innovative power, passion and energy as they find ways to convey their art to society despite the restrictions placed on their profession because of the global coronavirus pandemic – restrictions that threaten their very livelihoods. And, by doing so, they also want to put across the hopeful message that life goes on – not as it was before, certainly, but in a different, special way that is no less exciting – and that perhaps offers the potential for completely new experiences precisely because of the situation. The Molyvos International Music Festival (MIMF), established six years ago by the German-Greek sisters Danae and Kiveli Dörken on their home island of Lesbos, promises this as well: "It was always a symbol of hope and persistence in difficult times. Even in the past, one of the festival's main objectives was to be a positive counterforce in challenging times." That is why the Molyvos International Music Festival should – indeed, must – take place again in 2020. Because of travel restrictions, it will do so this time as a sort of binational event with concerts in Germany (24 July Stuttgart) and Greece (17 + 18 August, with the village of Molyvos specially illuminated). The concerts in Greece will be streamed live on social media (YouTube, Facebook, Instagram) and broadcast on Greek radio as well as on the platform Classical:NEXT and the Facebook page of the magazine "Rondo".
The new festival motto, "Synchronicity", is an ideal peg for reflection on the current situation, in which simultaneous community experiences involving physical closeness have come to an almost complete standstill. Audiences will now, in 2020, be able to experience live the close entwinedness of the MIMF's family of artists even over great distances when they play together virtually on a split screen in Molyvos. Dionysis Grammenos and Sebastian Manz will not be physically present for the performance of Mendelssohn's Concert Piece No. 2 in D Minor (17 August) but appear on the screen via video link; the Greek national anthem will also be given a virtual performance by the big MIMF family. Danae Dörken is convinced that music can show one way out of the current coronavirus crisis: "In times when it has never been more important to keep a physical distance, music brings us close to one another. It creates connectedness at a time when our lives are shaped by separation." And this is also true in many regards of the first performance of "Moments", a work commissioned by the festival. Here, the Dörken sisters, who have always also been much involved in music education, initially got into contact with children on Lesbos, including those in special classes for refugees, and asked them to capture sounds that reminded them of their own homeland or had an important personal significance – from the sound of the sea to folk songs. A ten-minute tape was made using the altogether nine contributions and Nickos Harizanos then composed a work for classical instruments to be performed parallel to it.
In the earlier live concert from the SWR Funkstudio Stuttgart (24 July), which is also part of the ARD Radiofestival 2020, four works by Robert Schumann.
> more information about the Molyvos International Music Festival 2020
> Website of the Molyvos International Music Festival
> more information about the live broadcast at SWR 2 as part of the ARD Radiofestival
> Interview with Danae Dörken at SWR 2 "Treffpunkt Klassik" (in German)