OPERA IN THE QUARRY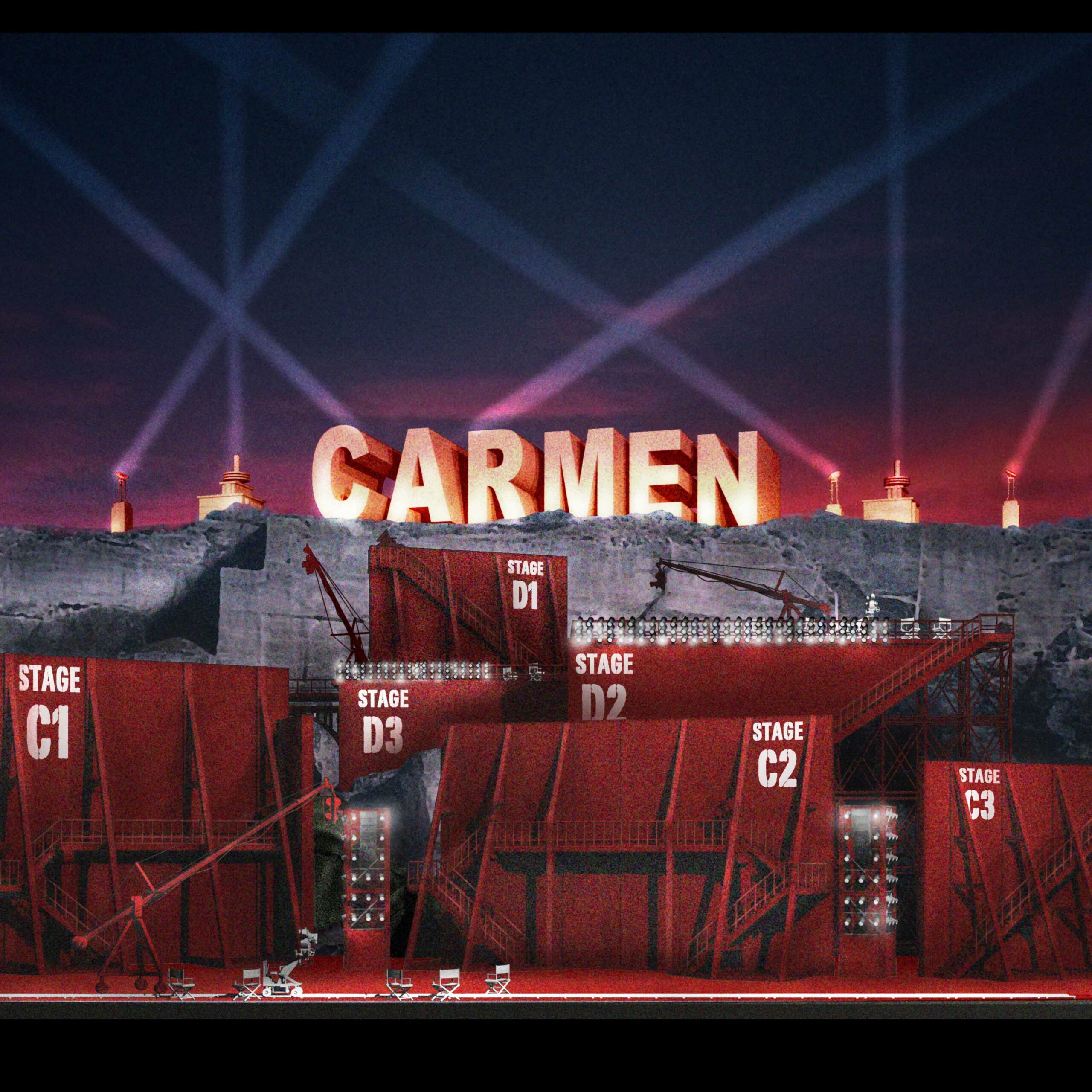 brief information
In the 2023 season, one of the world's most popular operas will once again transform the St. Margarethen Quarry into a hot spot for music lovers from all over the world: "Carmen" by Georges Bizet.
Between the Hollywood dream factory and the Spanish Civil War, French director Arnaud Bernard will stage Carmen by Georges Bizet from 12 July – 20 August 2023 under the artistic direction of Daniel Serafin. With Alessandro Camera (stage) and Carla Ricotti (costumes), he is assisted by masters of their trade who, as a team, create a Carmen world all their own.
With conductor Valerio Galli, an internationally renowned expert is also at the podium of the PIEDRA Festival Orchestra. Under his direction, the ensemble of top international singers, such as the globally engaged Lebanese-Canadian Joyce El-Khoury* in the title role, Matthew White as Don José and Vittorio Prato as Escamillo, will make Bizet's music shine.
The premiere of Arnaud Bernard's production is on 12 July 2023.
Since 1996, the Opera in the Quarry has has attracted audiences with great opera performances every summer. The open-air stage in St. Margarethen in Burgenland (65 km south-east of Vienna) is embedded in the UNESCO World Heritage region of Lake Neusiedl. With the quality standard of offering popular and high-quality opera productions, the Opera in the St. Margarethen Quarry is an attraction for an enthusiastic audience as well as for international opera stars.
The quarry in St. Margarethen is one of the most spectacular and beautiful open-air stages in Europe. This natural, 7000 m² open-air concert hall ensures an unforgettable concert experience thanks to its acoustics and impressive atmosphere.
Opera in the Quarry on youtube
Opera in the Quarry on Instagram
Opera in the Quarry on Facebook


DATES & INFORMATION
Main stage, St. Margarethen Quarry
PREMIERE 12. JULY 2023*, 08.30pm
Other dates:
13th, 14th, 15th*, 20th, 21th, 22th*, 23rd, 27th*, 28th, 29th and 30th July 2023.
3*rd, 4th, 5*th, 6th, 10th, 11th, 12th, 13th, 17*th, 18th, 19*th and 20th August 2023
Start July: 08.30pm, admission from 06.30pm onwards
Start August: 08.00pm, admission from 06.00pm onwards
Duration: approx. 2:45 hrs.
Prices: €49 to €168
MUSICAL DIRECTOR: Valerio Galli
INSTRUCTION: Arnaud Bernard
STAGE PHOTO: Alessandro Camera
COSTUME: Carla Ricotti
CARMEN: Joyce El-Khoury* / Lilly Jørstad / Francesca di Sauro
DON JOSÉ: Migran Agadzhanyan / Matthew White / Brian Michael Moore
MICAELA: Yulia Suleimanova / Ana Garotic / Vanessa Vasquez
ESCAMILLO: Vittorio Prato / Sergey Kaydalov
FRASQUITA: Leah Manning / Aleksandra Szmyd
MERCÉDÈS: Nina Tarandek / Sofia Vinnik
LE DANCAÏRE: Oleh Lebedyev / Matthias Störmer
LE REMENDADO: Angelo Pollak / Timothy Oliver
ZUNIGA: Mikołaj Bońkowski / Ilja Kazakov
MORALÈS: Stefan Astakhov / Ivan Zinoviev
Philharmonia Choir Vienna (direction: Walter Zeh)
Stunts and extras from the opera in the quarry
Piedra Festival Orchestra
read more