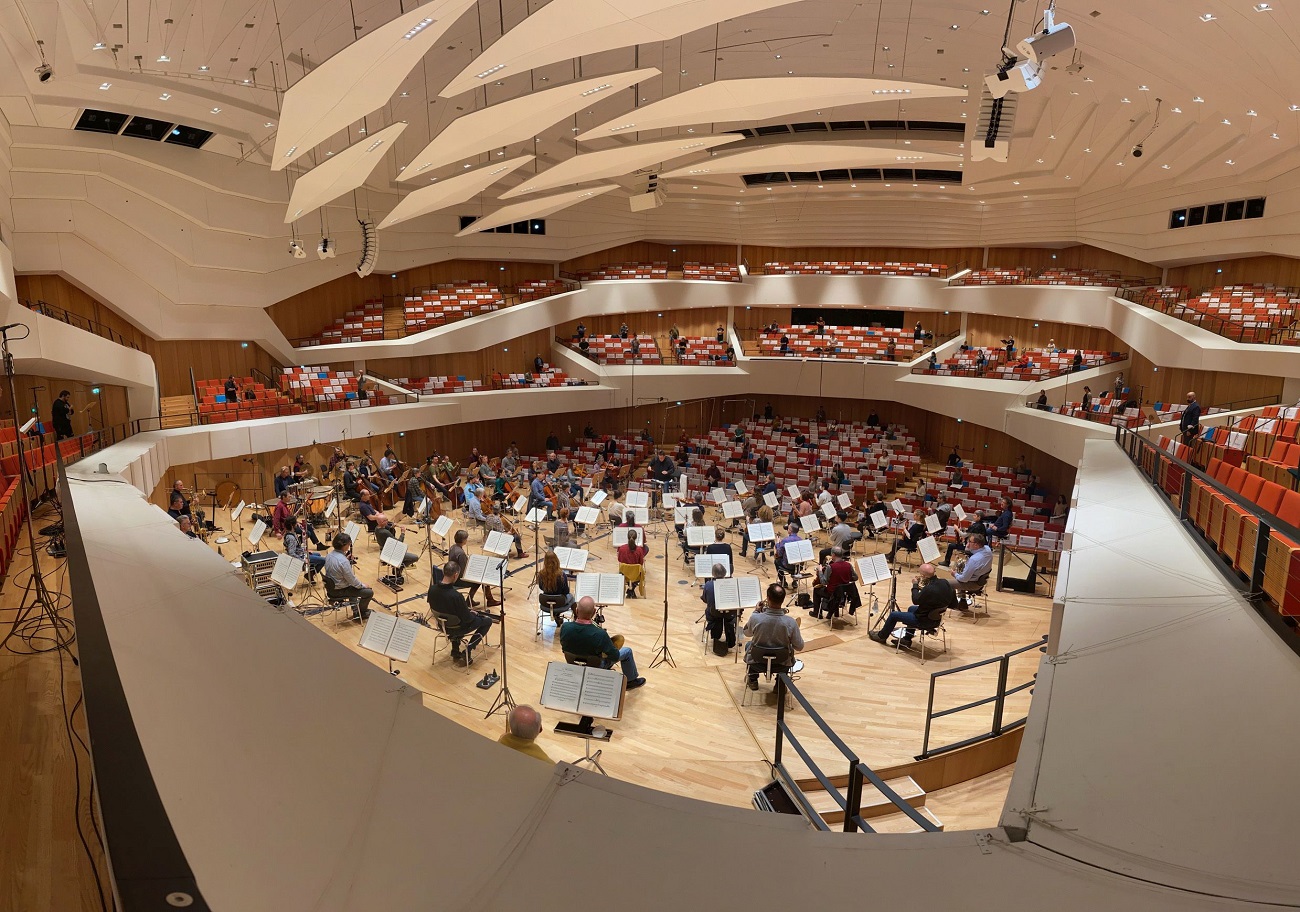 March 22, 2021
One year of Corona – The Dresden Philharmonic looks back on 2020
A loyal audience. New digital offerings, CD recordings and radio concerts. And 90 percent of the available seats has been sold. The Dresden Philharmonic looks back on a year of Corona.
Artistic Director Frauke Roth:
"For orchestras and concert halls, the Corona pandemic is a historic turning point. But what has been shown above all, and will certainly be engraved in the collective philharmonic memory, is that only as a team, only when a principal conductor like Marek Janowski, the management and the orchestra all pull together, can such a situation give rise to something of high artistic quality and, in some respects, something new. With that in mind, we look forward to the coming weeks and months with tautness, but also confidence."
The Dresden Philharmonic has used the Corona constraints to establish new formats, to develop new digital and analogue formats with a sustainable hygiene concept to enable events with the public in the concert hall. Where "normal" concerts were not possible, CD productions ("Fidelio", Schubert's "Great" Symphony in C major and its "Unfinished") were realized. Some of the concerts were broadcast on the radio. Live streams became a reality for some projects (Haydn-Hindemith concerts in June 2020, "150 Years of Dresden Philharmonic" on 29 November 2020). The concerts with an audience sold 90.5 percent of the available tickets, the programmes that had been scheduled until the end of January 2021 and concerts cancelled due to a second lockdown had also been sold out. The newly established projects such as 1:1Concerts and mini concerts in care and social instituations were able to reach new and/or other audiences (phil_zu_zweit; phil_unterwegs). The online formats (#weiterhören) were met by great interest, especially in the first lockdown. However, the time individual visitors spent on the website/social media post indicates that digital formats cannot fully replace the experience of a live concert as can be deduced from click rates and audience reactions.
Verdi's "La Traviata" is currently being recorded for CD, conducted by Daniel Orén with Lisette Oropesa, Lester Lynch, other renowned soloists and the choir of the Saxon State Opera. A recording of Belcanto arias with Lisette Oropesa and the Dresden Philharmonic is to follow in early April. One 26th March 2021, Deutschlandfunk Kultur broadcasts a concert with works by Martinů, Kabeláč and Dvořák under the baton of Tomáš Netopil. Two concert programmes under the direction of chief conductor Marek Janowski will also be recorded for radio in mid-April.
A resumption of concertswith an audience is not foreseeable at the moment, appropriate conditions (compulsory testing, contact tracking, adjustment of the number of seats, etc.). are currently being examined and a corresponding access concept is being developed.