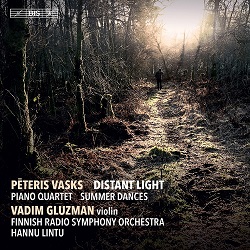 May 1, 2020
CD-release: Vadim Gluzman with "Distant Light" and a world premiere recording
Pēteris Vasks believes that beauty and music can change the world and humanity by giving us hope and light in times of hardship.
Violinist Vadim Gluzman hopes that the release of the album on the Label BIS will send out a glimmer of hope, a "Distant Light" shining on a better, brighter tomorrow in the time of a worldwide crisis.
For Vasks' violin concerto "Distant Light", Gluzman is joined by the strings of the Finnish Radio Symphony Orchestra under the baton of chief conductor Hannu Lintu, while he performs the piano quartet and the world premiere recording of the "Summer Dances" with three Latvian-born musicians: violist Ilze Klava, cellist Reinis Birznieks and pianist Angela Yoffe, his long-time duo partner.
All chamber music partners have been part of the Bruch Quintet's award-winning recordings (BIS 2011, including Diapason d'Or of the Year and Gramophone Editor's Choice).