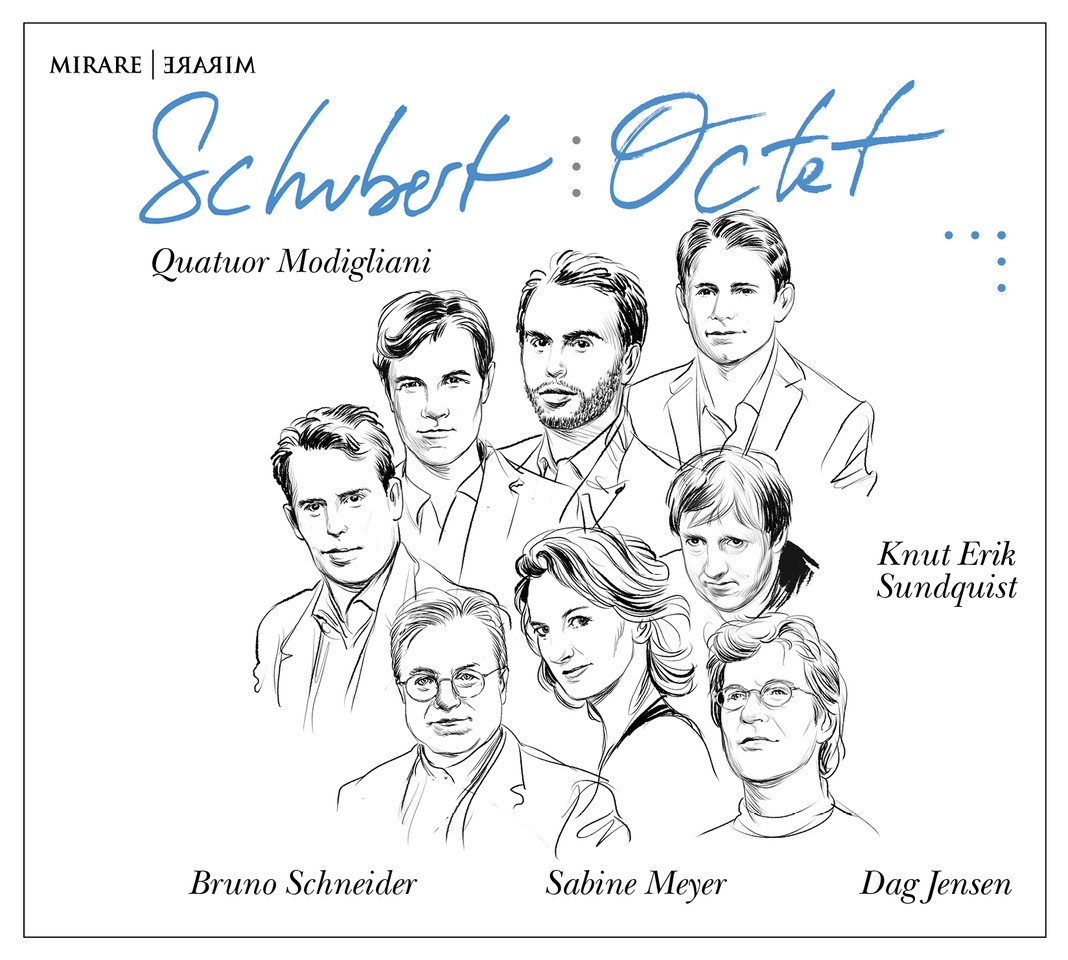 April 24, 2020
CD release: Quatuor Modigliani plays Schubert
The Quator Modiglini has recorded the octet for clarinet, horn, bassoon and strings in F major, D 803 by Franz Schubert (mirare, digital release: April 24, 2020) and was joined for this by Sabine Meyer (clarinet), Bruno Schneider (horn), Dag Jensen (bassoon) and Knut Erik Sundquist (double bass). Due to the Corona-crisis, this recording is only available in its digital version on different platforms such as Spotify, Deezer, Apple Music, Qobuz etc.
The octet (1824) by Franz Schubert is a masterpiece, situated between smphonic music and chamber music and was swiftly written with "the greatest zeal," according to his friend Moritz von Schwind. Quite the archetype of Viennese elegance, the sunny and pleasant work hardly reveals the psyche of a young man grappling with illness.
Its likely model was Beethoven's Septet for clarinet, bassoon, horn, violin, viola, cello and double bass, to which Schubert added a second violin. Through this unique sound world, Schubert could, like Beethoven, explore contrasting tone colours without leaving behind the intimacy of chamber music or the virtuosic brilliance of the concertante, a role given to the clarinet, the horn and the first violin.
Nonetheless, the Octet stands out immediately from its ancestor and is a work of artistic maturity. If the language of the Septet remains rooted in the mores of the Classical era, that of the Octet is undeniably romantique. The first movement belongs to the infinitely lyrical world of Schubert in which harmonies morph according to the whims of the melody. The Adagio (II) unfolds like an eternal song, with a heavenly clarinet soaring alongside an expressive violin. Characters and colours transform unexpectedly — from friendly banter to a sense of foreboding in the variations movement, and from the surreal to the spectacular in the astonishing finale whose evocative introduction, announced by dramatic tremolos, seems to foresee the operas of Wagner in the horizon. The Octet might outwardly suggest harmless conformity, but through the remarkable genius of its visionary author, a poetic language, in which exuberance and despair meet, awakens.