Eliots am Main – Festival
Eliot Quartet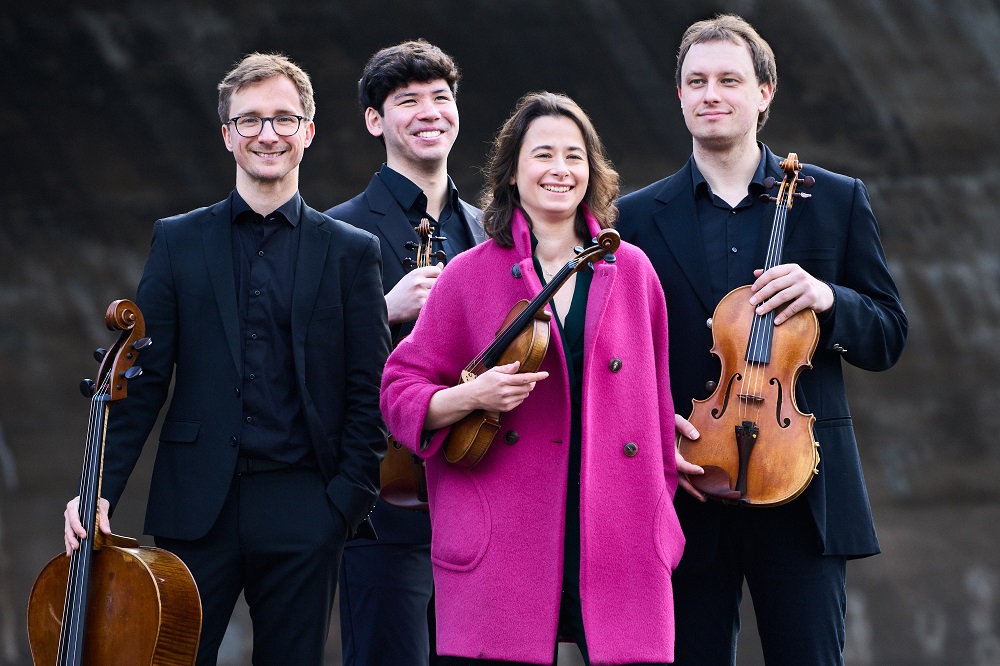 Eliot Quartet
brief information
From October 17 – 26, 2022, the highly acclaimed Frankfurt Eliot Quartet will present the first edition of its festival "Eliots am Main" in the Historischer Festsaal zu Frankfurt.
In addition to Alfred Brendel, who will give a lecture on "Goethe and Music" right at the beginning – with musical accompaniment by the Eliot Quartet – the quartet has invited a whole series of outstanding artists as guests: Soprano Juliane Banse will take on the vocal part in eight songs by Felix Mendelssohn-Bartholdy, which Aribert Reimann has arranged for voice and string quartet and combined with six intermezzi.
Furthermore, works by three contemporary composers will be heard, including the Frankfurt premiere of the 3rd String Quartet by Valentin Silvestrov and the German premiere of the Trout Quintet by Pavel Karmanov.
The Eliot Quartet is named after the American writer T. S. Eliot (1888-1965). He is considered one of the leading representatives of American modernism and was inspired by Ludwig van Beethoven's late string quartets to write his last great poetic work, "Four Quartets". All of the Eliots' recordings have been released on the Leipzig label Genuin. The first CD with an early Beethoven quartet and a quartet by Szymanowski appeared in the Primavera edition, which presents prizewinners of the German Music Competition, and on album No. 2 the four musicians set Beethoven's Razumovsky Quartet op. 59/1 in relation to Sergei Prokofiev's turbulent second quartet.
The current album of the "Eliots" is entitled "Le temps retrouvée" and released on the Genuin label. It focuses on two central chamber music works by the Belgian Romantic composer César Franck, who celebrates his 200th birthday in 2022: his only string quartet in D major and the famous Piano Quintet in F minor. For the latter, they brought on board the Russian pianist Dmitry Ablogin, who also lives in Frankfurt and with whom the quartet has a close friendship. With him, they trace Franck's wide-ranging melodic lines and weave a tight web between strings and piano.
read more
Images & videos