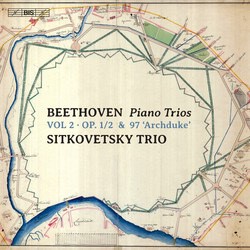 August 4, 2023
The acclaimed Sitkovetsky Trio takes on Beethoven's Archduke Trio
With the three piano trios, Op. 1, Ludwig van Beethoven took a genre still largely associated with salon music and raised it up to rival the string quartet. The works are innovative in form as well as in content. From this collection, the Trio in G major, Op. 1 No. 2, appears as a cheerful and engaging work. While it has been said that one could discern 'the master's happy youth […] still unclouded, light and frivolous', hints of 'the deep seriousness and tender intimacy that would follow' can also be found.
Knowing very well that well-placed dedications could result in princely rewards, Beethoven dedicated his Piano Trio in B flat major, Op. 97, to the Archduke Rudolph of Austria, hence its nickname, 'Archduke' Trio.
With this work, Beethoven bade farewell to the genre with arguably his most important contribution, a trio of which a critic wrote that in it 'genius, art, nature, truth, spirit, originality, invention, execution, taste, power, fire, imagination, loveliness, deep feeling and lively jesting entwine in sisterly harmony.'
After the success of its Ravel and Saint-Saëns trios recording [BIS-2219], the Sitkovetsky Trio presents the eagerly awaited second instalment of its series devoted to Beethoven's piano trios. Vol. 3 of this series is expected to be released next year.
To the album published by BIS in August 2024