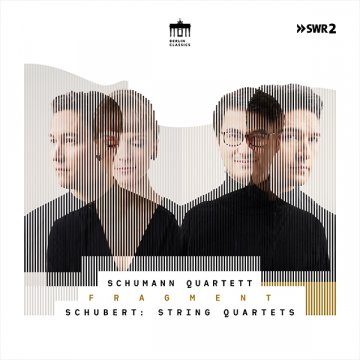 August 14, 2020
The Schumann Quartet dedicates itself to Franz Schubert with the new album "Fragment"
After issuing three successful concept albums since 2017, of which the most recent, "Chiaroscuro", has just been nominated for an Opus Klassik award, the Schumann Quartet has chosen three string quartets by Franz Schubert for its new album, "Fragment". The recording on the Berlin Classics label in collaboration with the German public broadcaster SWR 2 will be issued on 14 August, 2020, in digital form and on CD. The string quartet "Rosamunde – Fragment Pt. 1" is already available as an EP at popular download and streaming sites.
Schubert's works display a direct appeal, deep expression and honest emotions, exactly like the playing of the Schumann Quartet. This ensemble regards every performance as an experiment in which it can create a spontaneous connection with the audience through music. Even in studio recordings, it always plays in the moment, allowing it to keep its repertoire sounding fresh. Over the years, the four members of the ensemble have engaged intensively with Schubert's "Rosamunde" quartet of 1824 and now felt the time was ripe to capture their current interpretation of the work in a recording. They have combined this well-known piece by the mature Schubert with the composer's sixth string quartet and his Quartettsatz in C Minor, including the fragment of an andante movement that follows it.
"[Schubert] was an artist who was always struggling with himself. Perhaps it is just this that we love so much about his music. He reveals his innermost feelings, his soul, as no other composer does. We immediately feel close to him, as though he were sitting next to us," is how Ken Schumann, the quartet's second violinist, described the special magic of the pieces on this CD in an interview with the online magazine niusic.