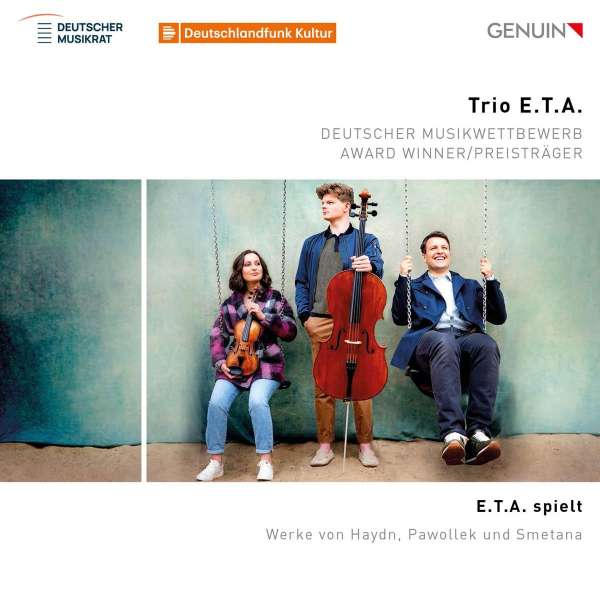 February 3, 2023
Debut Album: Trio E.T.A. plays Haydn, Smetana and Pawollek
The Trio E.T.A. is a young ensemble whose future is something to look forward to with excitement. On February 3, 2023 it releases a debut album with works by Haydn, Smetana und Pawollek on GENUIN. The Trio, founded in 2019, has "a special ambition to form a homogeneous yet richly nuanced ensemble, a collective trio sound that is unique and distinctive in nature." This aspiration also won the day at the German Music Competition (DMW), from which the trio emerged as a prize-winner in 2021 and the announcement as SWR 2 New Talent 2023.
"[…] here, in the Trio E.T.A. from Hamburg, a not even three-year-young ensemble is playing that casts a spell over the ears and hearts of its listeners. Because Elene Meipariani, Till Schuler and Till Hoffmann succeed with great immediacy in tapping the power of music to rouse deep emotions and create excitement. […] A trio that completely immerses itself in Mendelssohn's musical world as if it had just been freshly written down on the manuscript paper." (Westfälische Nachrichten)
The Trio in C Major Hob. XV:27 by Joseph Haydn is one of a set of three piano trios that the composer wrote during his second visit to England in 1795. It is dedicated to his friend Teresa Jansen, who was a celebrated piano virtuoso in England at the time. This is evident in the piece, as the piano part is much more technically brilliant than those of the other two instruments. The first movement is full of animated arpeggios and jaunty grace notes, while the cantabile Andante has something of a Scottish folk song. The brisk finale is a finely balanced movement that is witty, dance-like and virtuosic.
The Trio in G Minor, op. 15, by Bedřich Smetana is the composer's only work in this genre, very unlike Haydn, who probably wrote more than 40 piano trios. He wrote it in the years 1855/56. It is also in three movements. Its mood is dominated by his grief for his daughter Bedriska, who died in 1855.
The third piece on the album is the rarity by Roman Pawollek. He has composed altogether three piano trios; this one, which has not yet been published and still lacks a number, was his first. When listening to the piece, one can hear that he himself is a pianist and accordion player and that he has a big predilection for improvisation. The trio has two movements: a lively Presto Smanioso characterised by minimalistic patterns and motoric repetitions, and a Lento Misterioso, in which bell-like sounds from the depths of the piano interact with delicate harmonics from the strings.