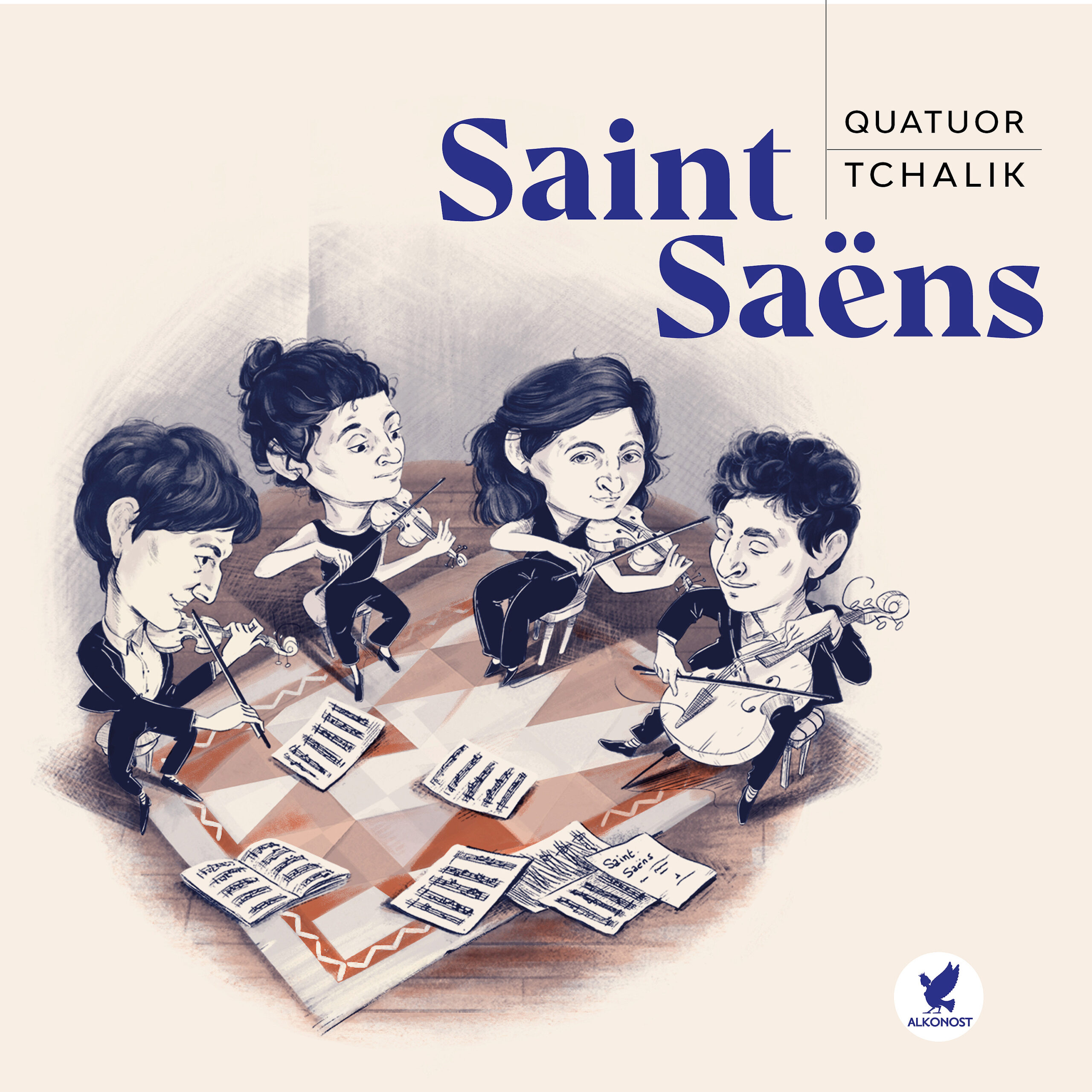 September 24, 2021
A homage – Quatuor Tchalik and the art of the string quartet
"One can write a string quartet only at twenty, in the clumsiness and foolhardiness of youth, or at sixty, when you have sufficient experience and your art is no longer a secret to yourself." (Camille Saint-Saëns)
Considering the work of Camille Saint-Saëns (1835-1921), it strikes how closely this saying corresponds to his own biography. Saint-Saëns began composing string quartets very late in his life. His first two string quartet attempts – both lost – date back to his youth in the early 1850s, while he composed the two official quartets, No. 1 Op. 112 (1899) and No. 2 Op. 153 (1918), at the ages of 64 and 83.
Following the release in 2020 of an album of chamber music by Reynaldo Hahn, the new recording by Quatuor Tchalik focussing on the work of Camille Saint-Saëns is not only a further exploration of the French musical heritage. It is rather a tribute to the great French composer on the centenary of his death, a reverence to "his vast catalogue of works, his countless concertos, his many talents (as a writer, dramatist, poet, painter, etc.) and [his] passions." (Quatuor Tchalik)
The Quatuor Tchalik consists of four siblings. Raised in a Russian-French family in which music plays an important role, they have made music together since their early childhood. This intimate contact with chamber music has allowed the four young musicians to develop a natural style, a common breathing and an extraordinary artistic symbiosis.
These qualities were recognised right at the first international competition in which the quartet participated: At the 2018 International Mozart Competition in Salzburg, Quatuor Tchalik was immediately awarded first prize and the special prize for the best interpretation of a Mozart quartet.
The quartet releases its recordings under its own label Alkonost Classics. After "Short Stories" and "Reynaldo Hahn", they are now presenting "Saint-Saëns". It is their third album on their autonomous self-direction (release date 24 September 2021). The design of the booklet is based on the variety of contemporary caricatures of Camille Saint-Saëns. The quartet uses this stylistic element and, together with the artist Anna Komaromi, has thus created a contemporary interpretation of this genre.
Link to the album
Video recording by France Musique: Camille Saint-Saëns String Quartet No. 1 op. 112 (1899) – III. Molto adagio – at the Théâtre de l'Alliance Française