Judith Jáuregui
CD project "The Romantic Soul"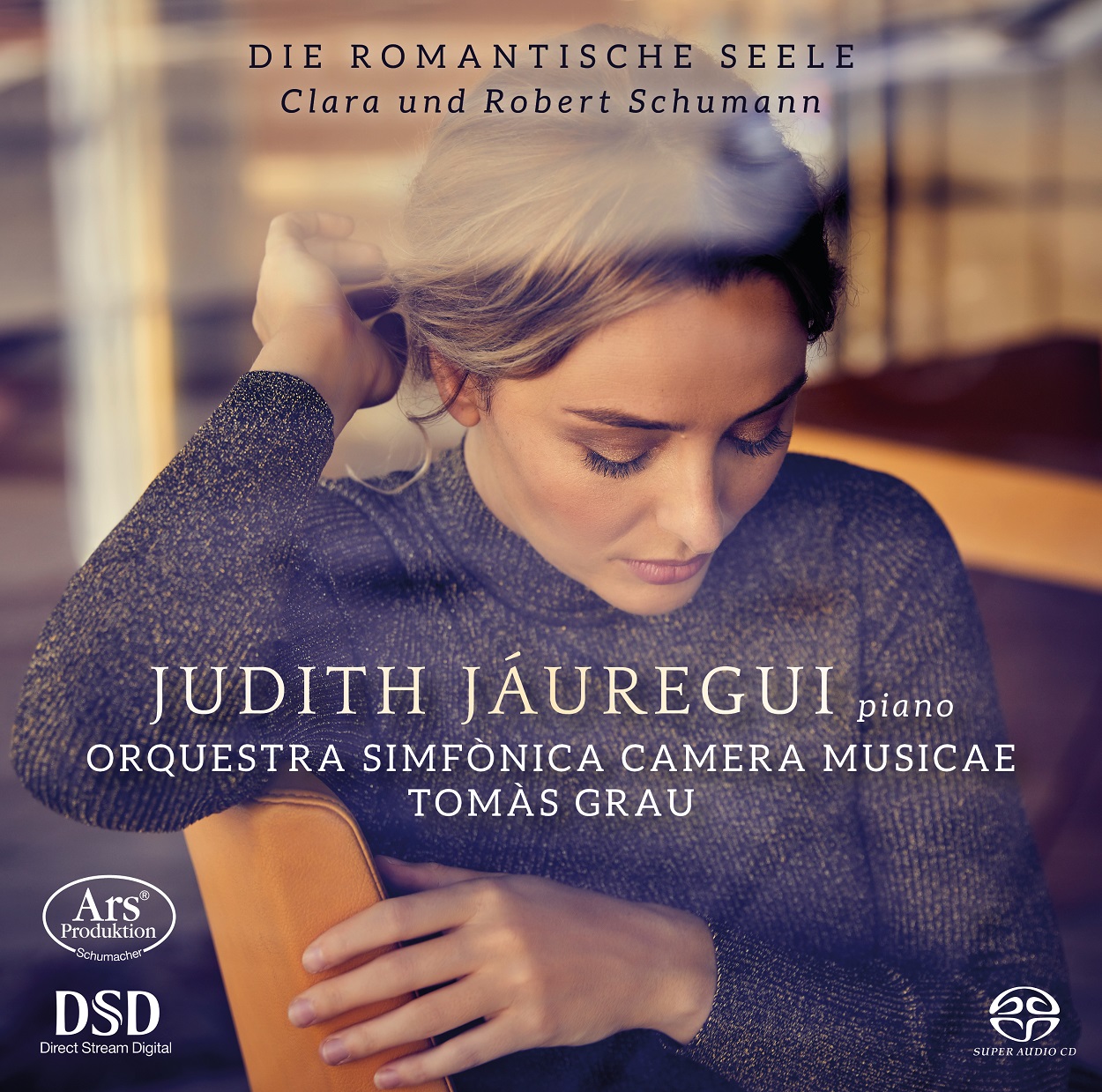 CD project "The Romantic Soul"
Brief information
For her new album "The Romantic Soul" (Die romantische Seele) for ARS Produktion, Spanish pianist Judith Jáuregui has compiled four works that reflect the Schumanns' intimate collaboration as both composers and performers. In the words of the Spanish magazine Scherzo, her career to date has been characterized by "an extraordinary natural energy" and she is an artist whose "temperament, freshness and musical dedication open the way to a fabulous future."
The album, recorded together with the Orquestra Simfònica Camera Musicae under Tomás Grau in Super Audio (SA) quality, was released on June 5, 2020 followed by the digital version one week after the initial release.
"It is impossible to imagine Robert without Clara, just as it is impossible to imagine Clara without Robert. It is for this reason that I wanted to bring their music together and reflect their trusting communion with a selection of works that were born of mutual inspiration. Their lives and work are a true embodiment of "the romantic soul" […]" Judith Jáuregui
Regarded as a luminous, elegant and personal artist, Jáuregui has become one of today's most captivating young pianists. She is a pianist whose approach is distinctive, creative and illuminating. In the words of the German magazine Piano News, 'it is not only the impeccability of her performance that counts, but rather the impression of listening to a pianist who really has something to say'.
In recent years she has been enthusiastically received on leading stages, including the Auditorio Nacional in Madrid, the Palau de la Música in Barcelona, the Southbank Centre in London, Auditorium du Louvre in Paris, Konzerthaus Berlin, Suntory Hall Tokyo, NCPA Beijing, Festival International de Piano de La Roque d'Anthéron, Lille Piano Festival, Festival Radio France in Montpellier, Schloss Elmau, Murten Classics or Klosters Music. She has also collaborated, amongst others, with the Britten Sinfonia, Neubrandenburger Philharmonie, the PFK Prague Philharmonia, the Aarhus Symphony Orchestra, the Slovak Sinfonietta and the Simón Bolívar Orchestra of Venezuela, as well as the principal Spanish orchestras.
Born in San Sebastian in northern Spain, Judith Jáuregui has a multicultural background derived from her Basque mother and her Mexican father, who grew up in France. After initial studies and a debut recital at the age of just 11, she moved to Munich to study with the distinguished Russian pianist Vadim Suchanov at the Richard-Strauss Konservatorium.
Upcoming highlights for the season 20/21 include collaborations with the Orchestre de chambre de Fribourg, the Orquesta Radio Televisión Española and the ADDA Simfònica, her return to Spanish main stages like the Auditorio Nacional in Madrid, the Auditorio in Zaragoza or the Teatro Victoria Eugenia in San Sebastian and her debut at the Teatro Mayor in Bogotá.
Judith Jáuregui youtube channel
read more