Heidenheim Opera Festival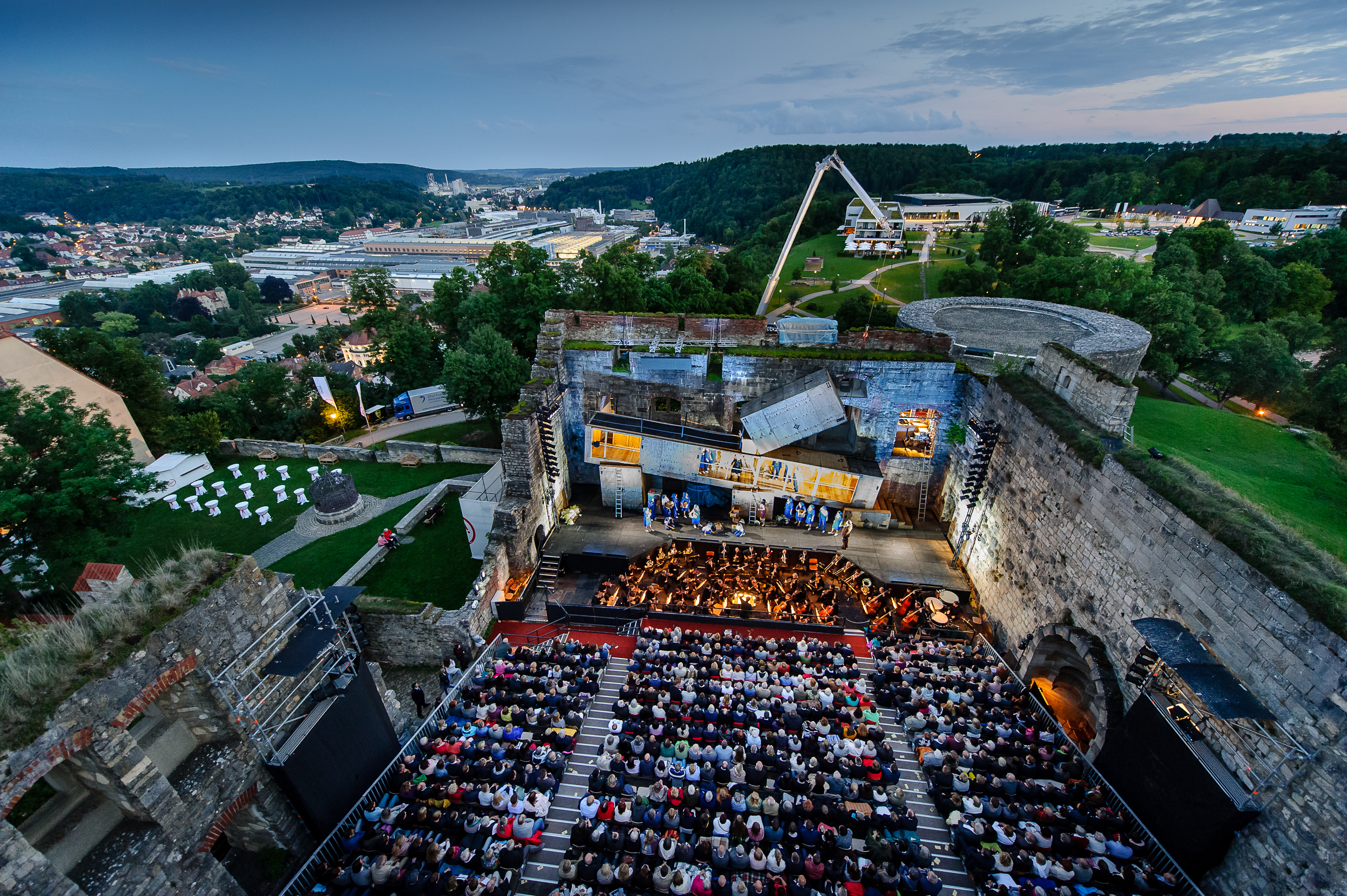 Brief information
It is already visible from a great distance: Hellenstein Castle, located 74 metres above the city of Heidenheim an der Brenz. On the outside, this mediaeval Staufer castle, which was almost destroyed by a fire in the 16th century, makes the impression of a massive stronghold. But on the side towards the courtyard, the semi-ruin creates a picturesque and imposing natural backdrop that draws many tourists throughout the year and, in summer, a lot of music fans as well. The Heidenheim Opera Festival (Opernfestspiele Heidenheim) has been taking place here for more than five decades, celebrating its milestone 50th anniversary in 2014. It is one of the five oldest opera festivals in Germany, with a tradition to match. In 2018, more than 19,700 visitors came here to experience unique operatic performances and concerts in the ruins of the castle's former "Knights' Hall" (Rittersaal) – "one of Europe's most beautiful open-air music stages" ("Welt") – or at other venues in the region. In 2009, another venue was built directly next to the "Rittersaal" in the guise of the Congress Centrum Heidenheim, with a hall that meets the latest acoustic standards and also enables events to go ahead regardless of the weather. The two stages are within walking distance of one another, a unique asset for a German open-air classical-music festival.
Marcus Bosch has been at the helm of the Heidenheim Opera Festival since 2010. Despite his international successes, Bosch remains committed to the musical life of his native city, Heidenheim, where he was born in 1969. His contract as conductor and festival director has been extended ahead of time until 2025.
In January 2020 the recording "Ernani" has been released on CD on Coviello Classics. Before there were the recordings of "I Lombardi" (Release January 2019, performed in 2018), "Un giorno di regno" (Release in April 2018, perfomed in 2017) and "Oberto" (Release in February 2017, performed in 2016). Furthermore the Cappella Aquileia started a cooperation with the label cpo and the record of Symphonies by Schubert and works by Beethoven.
The Heidenheim Opera Festival 2020 took place with a reduced programme. The operas "Don Carlo" and "I due Foscari" are moved to the festival 2021.
Heidenheim Opera Festival on Facebook
Heidenheim Opera Festival on Twitter
read more
Images & videos